DRESSAGE TODAY: FEBRUARY 2007
Develop Power with Hill Work Felicitas von Neumann-Cosel wrote an article about improving collection and self-carriage by venturing outdoors.
DOWNLOAD FULL ARTICLE
---
FIRST CHOICE FARM
PO Box 425
Lisbon, Maryland 21765

PHONE 301-854-6541
INFO info@firstchoicefarms.com

Facility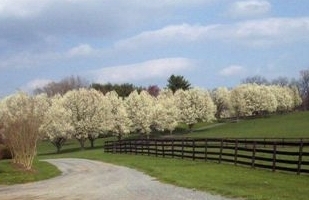 In 1983, First Choice Farm was purchased by Gene Freeze, President and Owner of internationally renowned County Saddlery, Ltd. of England. "When I first walked onto the property I fell in love with it" says Freeze. The privacy, the views, the nature, and the location are spectacular. Located in Howard County, Maryland, this top class import and dressage training facility plays host to visitors from all over the world including Western Europe, Russia and China.
In 1984, just after Freeze's purchase of First Choice Farm, his friend for many years and 6-time Olympian, Robert Dover, came to First Choice to train for his first Olympics in L.A., California. While at First Choice, in addition to his L.A. Olympic horse, Romantico, Robert also trained his second Olympic Games horse, Federleicht.
Along with Dover, one of Germany's leading Reitlehrers (Professional Trainers), Felicitas von Neumann Cosel, joined the First Choice Farm team in 1984. Felicitas had trained and ridden horses for the world's most elite auction, working for Ule Kasselmann and Paul Shockemuler at Performance Sales International in Ankum, Germany.
After L.A., Dover went on to many other destinations while the lure of First Choice Farm compelled Felicitas to return. She continues to be the head trainer to this day, producing great horses and great riders.
Felicitas is regularly featured in many of the nations leading equestrian magazines.
.